Please note: This concert is in the past and has already taken place.
Details
Christchurch Cathedral
Christchurch Place
Dublin
Dublin 8
Eire


Programme
Ludwig van Beethoven – Leonore Overture no.3, Op.72b
Ludwig van Beethoven – Violin Concerto in D major, Op.61
Ludwig van Beethoven – Symphony no.3 in E flat major 'Eroica', Op.55

Performers
Helena Wood – violin

Hibernian Orchestra

Programme Note
Beethoven – Leonore Overture No. 3
Originally conceived as an overture to Beethoven's only Opera, Fidelio, Leonore, is an intensely dramatic, symphonic movement which tells the complete Fidelio story of wrongful imprisonment and love.
Beethoven – Symphony No. 2
Beethoven completed this work between 1801 and 1802 as he came to terms with his progressive deafness. Throughout the piece, the prevailing mood is bright and positive – perhaps a musical expression of Beethoven's determination to use his art to triumph over his disability. That triumph was already apparent to at least one contemporary critic, who declared that the symphony would "remain as the work of a fiery spirit … when a thousand fashionable pieces now celebrated will have long been consigned to their graves".
Beethoven – Violin Concerto in D Major with Soloist Helena Wood
Beethoven wrote his only Violin Concerto for Austrian violin prodigy Franz Clement. if one tradition is to be believed, his efforts were rewarded by a spontaneous performance by his soloist, who in between the first and second movements spontaneoulsy upended his violin and supplemeneed Beethoven's Concerto with his own composition played on a single string. The Concerto minus Clement's impromptu interlude is now renowned as one of the most important works in the violin repertoire.
About the Hibernian Orchestra
Founded in 1981, the Dublin-based Hibernian Orchestra (formerly the Hibernian Chamber Orchestra) is now recognised as the leading voluntary Orchestra in Ireland.
The players come from a variety of backgrounds: as well as music teachers and music students, the orchestra includes many pre-professionals, musicians pursuing other careers and increasingly, players who were trained across the world and who now reside and work in Ireland. What unites the members of this ensemble is their love of classical music and their commitment to the highest possible performance standards.
For further information, please contact:
Stephen Rocke StephenRocke@gmail.com
Or visit www.thehibernianorchestra.ie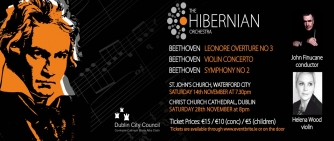 Get a route map
Your Map