Details
City Halls & Old Fruitmarket, Glasgow | Glasgow
Sunday 23rd April 2017
7:30 PM
Programme
Ludwig van Beethoven – Mass in C major, Op.86
Antonio Vivaldi – Gloria in D major, RV 589
Ludwig van Beethoven – Fantasia in C minor for piano, chorus and orchestra, 'Choral Fantasy', Op.80

Performers
Julia Daramy-Williams – soprano
Svetlina Stoyanova – mezzo soprano
Glen Cunningham – tenor
Jerome Knox – baritone
Graham Taylor – conductor
Colin Taylor – piano

Orchestra of Scottish Opera
City of Glasgow Chorus

Programme Note
On 22nd December 1808, Beethoven premiered several of his works in a four hour marathon concert. The concert included his Symphonies Nos 5 and 6, Piano Concerto No 4, Fantasy for Piano, Chorus and Orchestra, together with two movements from his not quite completed Mass in C.
The evening turned out to be a bit of a disaster for many reasons, but probably not helped by the fact that Vienna was experiencing a particularly cold winter. After paying all the musicians and for the hire of the hall, there was no money left to pay for the heating. As a result, performers and audience sat in freezing conditions ... the auditorium gradually emptied. Recently the BBC SSO replicated this concert in the much warmer Glasgow City Halls.
The City of Glasgow Chorus, together with the Orchestra of Scottish Opera, a terrific line-up of up and coming soloists from the RCS and pianist Colin Taylor, will perform not only the Fantasy in C Minor but also the Mass in C in its entirety.
The Choral Fantasy is a twenty minute delight which starts with piano introduction, followed by the orchestra after a few minutes, and finally the chorus. This piece appears to have been preparatory work for Beethoven's 9th Symphony although Beethoven was unaware of what lay ahead when he wrote it. The City of Glasgow Chorus last performed this work in December 1988.
Most concert goers will be familiar with Beethoven's towering Mass in D Major – the Missa Solemnis – and the Mass in C, his only other Mass, tends to be overshadowed by that work. At the fateful premiere in 1808 only the Gloria and the Sanctus movements were performed. However, it is a work beautifully crafted with Beethoven's magic spirited throughout. He referred to it as his "special" work, and this performance promises to be special too.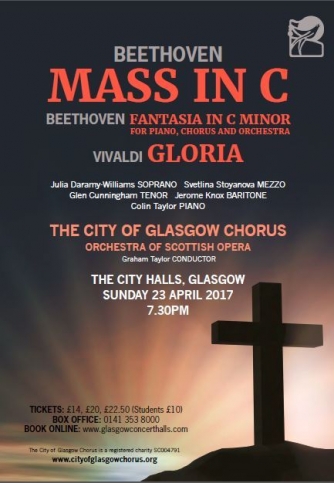 Get a route map
Your Map