Please note: This concert is in the past and has already taken place.
Details
Holy Trinity Church
Sloane Street
Sloane Square
London
SW1X 9BZ
England


Programme
John Ireland – Twilight Night
Jean Sibelius – Drömmarna (Dreaming)
Toivo Kuula – Nuku
Wilhelm Stenhammar – September
Edward Elgar – Evening Scene
Frederick Delius – To Be Sung of a Summer Night on the Water
Leevi Madetoja – Voi, jos ilta joutuisi (O if Evening Soon Would Fall)
Edward Elgar – As Torrents in Summer, Op.30
Edvard Grieg – Våren (Last Spring)
Ernest John Moeran – Songs of Springtime: The River-God's Song
Ernest John Moeran – Under the Greenwood Tree
John Ireland – The Peaceful Western Wind
Toivo Kuula – Auringon noustessa

Performers
George Parris – Director

Carice Singers

Programme Note
A concert entitled 'Into the Twilight' launches The Carice Singers' second recording for Naxos as they explore the Romantic composers from the fringes of Europe - including Kuula, Madetoja, Sibelius and Stenhammar - and the topography, climate and legends of the northern landscapes that inspired them.
The Carice Singers, under the direction of George Parris, present a programme of British and Nordic choral works from the turn of the twentieth century to mark the release of their recording of choral music by John Ireland and E.J. Moeran in July.
Featuring stunning music rarely performed in the UK, this adventurous programme explores sounds and landscapes from the fringes of Europe – from countries such as Finland, Ireland, and Norway – as well as reflecting upon the daily cycle of light and the broader question of 'northerness'.
The concert will combine more familiar sounds of 'northerness' by Grieg and Sibelius with rarely performed works by Finnish composers Toivo Kuula and Leevi Madetoja, and Swedish symphonist Whilhelm Stenhammar; composers who drew their inspiration from the dramatic landscapes and destructive natural forces found on the north-western fringes of Europe, resulting in a unique repertoire of choral music that provides a bracing and atmospheric alternative to that of their central European contemporaries.
British composers are represented by Elgar, Ireland and Moeran. "John Ireland's part-songs are exquisite contributions to their genre", explained The Carice Singers' Director, George Parris, "while his pupil, Jack Moeran, resurrected Elizabethan models in search of new inspiration and meaning. Like Peter Warlock, the featured composer on our first disc for Naxos, these composers are an indispensable part of the great English lineage, and their music deserves to be more widely known today."
The project reaches its culmination this autumn when the choir will record their third disc for Naxos, focusing on the choral music of Delius and Bax; two giants of twentieth-century British music who drew heavily from music of the Nordic tradition.
The Carice Singers has been described as being "totally at one with this repertoire, their expressive voices complementing the composer's intentions with captivating interpretations" (Choir and Organ). The choir is committed to breathing fresh life into this unjustly neglected music, which often demands more attention to detail and variation of colour than other choral music. Much of this music reflects the natural world with strikingly cinematic results, an effect which still engages modern-day audiences.
Launched in 2011, The Carice Singers are an ensemble comprised of some of the UK's finest young professional singers, noted for their "freshness of tone" and "careful musicality" (Gramophone). Named after the daughter of Sir Edward Elgar, the choir aims to bring an imaginative approach to choral music of the Romantic period and beyond, frequently drawing upon the latest academic research to produce original and insightful programmes. The choir maintains a tradition of performing in rural areas, as well as making appearances at more familiar venues.
The Carice Singers usually performs with 22 unaccompanied voices. Much of the choir's activities are aimed at advancing the artistic development of its members, all of whom are choral singers in their twenties. The group benefits from a good balance between those who are already established singers in London and other chorally-minded cities, and outstanding musicians who are pursuing careers in industries other than music. Crucially, The Carice Singers' members have remained largely consistent since the choir began – an unusual accomplishment for an ensemble of young people. This has been a significant factor in its rapid development into a near-professional ensemble, aided by the especially strong friendships that are at its core. Audiences comment time and again on the generosity of spirit which emanates from the choir's performances, and the ensemble is proud that this feature remains particularly evident.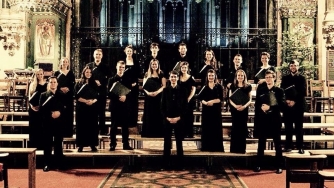 Get a route map
Your Map