Please note: This concert is in the past and has already taken place.
Details
Loughborough Parish Church
Rectory Road
Loughborough
Leicestershire
LE11 1UX
England


Programme
Franz Schubert – Rosamunde, D.797: Overture
Pyotr Tchaikovsky – Symphony no.2, Op.17
Benjamin Britten – Violin Concerto, Op.15

Performers
Nic Fallowfield – Conductor
Thomas Bowes – violin

Programme Note
Charnwood Orchestra will return to All Saints Parish Church, Loughborough with its annual concert on Saturday 19th March starting at 7.30. There will be an interval bar with wine and Castle Rock beer available.
Tickets cost £12, £10 (concessions) and £3 for accompanied children under 16. They can be bought from the Box Office (07718 153117) or judithrodgers155@gmail.com or by Paypal from www.charnwoodorchestra.org.uk from members of the orchestra or on the door.
The programme consists of
Schubert's Rosamunde Overture
Britten's Violin Concerto with soloist Thomas Bowes
Tchaikovsky's Symphony No 2, the Little Russian.
Rosamunde Overture
This work was never called that during Schubert's lifetime. He knew it as the overture to a melodrama called The Magic Harp, and would have expected that his incidental music to the play Rosamunde would open with a completely different piece. So this is a case of mistaken identity. In July 1820, Schubert was commissioned to provide incidental music for a new production, The Magic Harp. The play was a complicated and insipid tale and there was little time to compose the score. To meet his deadline Schubert raided his own earlier manuscripts. The Magic Harp was poorly received and Schubert's music fell into obscurity. Seven years later, however, a misguided publisher mistakenly printed the overture with Schubert's incidental music for another play, Rosamunde. In this way, one of Schubert's finest orchestral works eventually became deservedly popular, even if under the wrong name.
Britten's Violin concerto
The first performance of this wonderful concerto was given in March 1940. Britten had come to the United States in 1939. "A discouraged young composer—muddled, fed-up, and looking for work, longing to be used" is how he described himself later. He finished his Violin Concerto just as, to his deep despair, war engulfed Europe.
Britten's grippingly eloquent work became a war requiem. Writing to his publisher Britten said: "So far it is without question my best piece. It's rather serious, I'm afraid—but it's got some tunes in it!" His orchestral imagination is amazing, and this early work shows that the mastery was there from the beginning.
We are delighted to welcome back Tom Bowes to play with us.
Symphony No 2 The Little Russian
One of Tchaikovsky's joyful compositions, it was successful right from its premiere. Because he used three Ukrainian folk songs to great effect in this work, it was nicknamed the "Little Russian". He wrote much of the symphony during his summer holiday at Kamenka in Ukraine with his sister Alexandra's family. Their estate had become the composer's favorite refuge and his affection for the estate bore fruit in his using local songs in the symphony. He even once wrote, in jest, that true credit for the Little Russian's finale should have gone to the real composer — the elderly butler in the household who sang the folk-song "The Crane" to Tchaikovsky while the composer was working on the symphony.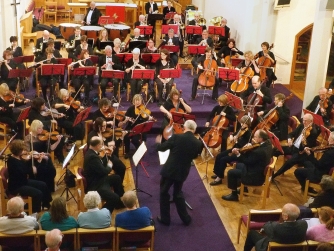 Get a route map
Your Map