Please note: This concert is in the past and has already taken place.
Details
Milton Court
Silk St
Barbican
London
EC2Y 9BH
England


Performers
Andrei Petrenko – Conductor

Mariinsky Chorus

Programme Note
Programme & Performers
Valery Gavrilin Fragments from Perezvony (Chimes)
Russian Orthodox works of Dmitry Bortnyansky, Pyotr Tchaikovsky, Modest Mussorgsky, Sergey Rachmaninoff, Alexander Arkhangelsky, Igor Stravinsky

Russian folk songs:

Ah, wide steppe arranged by Alexander Sveshnikov
In the dark forest arranged by Alexander Sveshnikov
Good little road arranged by Alexander Sveshnikov
Up the mountain, up the hill arranged by Oleg Kolovsky
Only the steppe all around arranged by Alexander Sveshnikov
With a loach fish, I go arranged by Nikolay Rimsky-Korsakov
Why must I live and grieve? romance by Alexander Varlamov, folk lyrics
Love, brothers, love... arranged by Feodosy Rubtsov
Birch twig broom arranged by Feodosiy Rubtsov
I come out onto the path, alone romance by Elizaveta Chashina to words by Mikhail Lermontov
The wicket gate romance by Alexander Obukhov to words by Alexey Budishchev
Twelve robbers arranged by Anatoly Novikov
The Lady arranged by Anatoly Novikov
The Mariinsky Opera Chorus explores the timeless choral music of the Russian Orthodox Church, and music rooted in that same tradition.
The Mariinsky Opera Chorus is a superb virtuoso ensemble in its own right. Tonight, chorus director Andrei Petrenko explores Russian Orthodox choral music and folksong, the twin traditions that inspired Shchedrin and Mussorgsky – including Valery Gavrilin's remarkable Perezvony, a large-scale choral fresco deeply rooted in Russian folklore.

Instrumental music is forbidden in the Russian Orthodox Church, so Russia has developed a choral tradition of unique character and resonance. The Mariinsky Theatre Chorus is part of that tradition; but with a full strength of over 130 singers, it's also an award-winning symphonic chorus in its own right. Under Andrei Petrenko, it's well-placed to explore the traditions that shaped the music of Mussorgsky and Shchedrin – and it's hard to imagine more committed champions of Perezvony (Chimes), here receiving a rare western performance as a complement to the two operas in the Mariinsky's Barbican residency.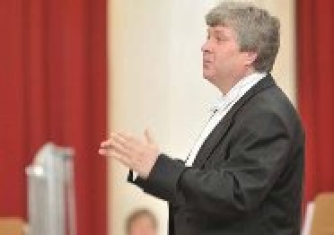 Get a route map
Your Map