Please note: This concert is in the past and has already taken place.
Details
Online event

London
England


Programme
Joseph Haydn – The Creation, Hob.XXI:2

Performers
Ben England – Director of Music
Ben England – Conductor
Claire Alsop – organ
Hannah Ely – Soprano
Lucy Cox – Soprano
Tom Kelly – Tenor
David Maguire – Bass
Ben McKee – Bass

Choir of the Earth
Fieri Consort

Programme Note
Join us for our concert performance of Joseph Haydn's joyful oratorio, The Creation. This performance was recorded by choristers from their homes around the world. Nobody met during its production.
Performers
Our soloists from Fieri Consort:
* Hannah Ely as Gabriel (Soprano)
* Tom Kelly as Uriel (Tenor)
* David Maguire as Raphael (Bass)
* Lucy Cox as Eve (Soprano)
* Ben McKee as Adam (Bass)
Choir of the Earth is directed and conducted by the inimitable Ben England BEM, and accompanied by the brilliant Clare Alsop on the organ of St Mary Redcliffe Church in Bristol.
St Mary Redcliffe is a church renowned for the beauty of its Gothic architecture, classed as a Grade I listed building by Historic England, and famously described by Queen Elizabeth I as "the fairest, goodliest, and most famous parish church in England."
About The Creation
Haydn was inspired to write a large oratorio during his visits to England in 1791 and 1794, when he heard oratorios by Handel performed by large choirs and orchestras. Karl Geiringer in his book on Haydn points out, "these years devoted to the composition of The Creation were among the richest and happiest in Haydn's life". So he was obviously a contented man as he worked (slowly) on it.
The Creation is structured in three parts and is often regarded as his masterpiece.
The first part deals with the creation of light, of heaven and earth, of the sun and moon, of the land and water, and of plants.
The second concerns the creation of the animals, man and woman.
The final part describes Adam and Eve during their happy time in the Garden of Eden.
The first public performance at Vienna's old Burgtheater on 19 March 1799 was sold out well in advance. A friend of Haydn was reported to have said:
"At the moment when light broke out for the first time, one would have said that rays darted from the composer's burning eyes. The enchantment of the electrified Viennese was so general that the orchestra could not proceed for some minutes".
The Creation had its London premiere in 1800, using the English text, at Covent Garden. The last performance Haydn attended was on 27 March 1808, just a year before he died. The aged and ill Haydn was carried in with great honour on an armchair. According to one account, the audience broke into spontaneous applause at the coming of "light" and Haydn, in a typical gesture, weakly pointed upwards and said: "Not from me - everything comes from up there!"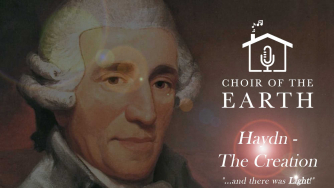 Get a route map
Your Map