Details
Online event

London
England


Programme
Gustav Mahler – Symphony no.8 in E flat major 'Thousand'

Performers
John Warner – Conductor
Lucy Cox – Soprano
Fiona Fraser – Soprano
Rebecca Leggett – Alto
Amy Blythe – Alto
Tom Castle – Tenor
Ben Tomlin – baritone
Tom Herring – Bass
Malachy Frame – baritone
Ben McKee – Bass
John Upperton – Tenor
Bernadette Johns – Alto
Helena Moore – Soprano

Choir of the Earth
Orchestra for the Earth
Sansara
Conservatorio Gustav Mahler de Irapuato

Programme Note
Choir of the Earth presents Gustav Mahler's Symphony No. 8 in E-flat, for double chorus, children's chorus, soloists, orchestra, and organ: a Concert Performance in aid of the Conservatorio Gustav Mahler de Irapuato, Salamanca, Mexico
We believe Choir of the Earth is the only choir in the world which has rehearsed and recorded this remarkable music in 2021.
On Saturday 22 January 2022 at 18:00 GMT, after 12 months of work, John Warner will conduct over 1,000 separate voices, a children's choir, a full orchestra and soloists in a unique performance of the complete Mahler 8.
HOW IT WAS DONE
The choir, orchestra and soloists all recorded their music from home. The only group to record their part together was the children's choir in Mexico.
The creation of this Mahler 8 production was the subject of a Mahler Hour at a recent presentation by The Mahler Foundation, available at: https://mahlerfoundation.org/foundation/themahlerhour/an-around-the-world-performance-of-mahlers-eighth-symphony
The teaching, conducting and sound engineering has been completed by John Warner, whose dedication to creating this online version of Mahler 8 has been extraordinary. Please read more about John and his Orchestra for the Earth at: http://www.orchestrafortheearth.co.uk
SOLOISTS
PART ONE
Soprano 1: Lucy Cox
Soprano 2: Fiona Fraser
Alto 1: Rebecca Leggett
Alto 2: Amy Blythe
Tenor: Tom Castle
Baritone: Ben Tomlin
Bass: Tom Herring
PART TWO
Pater ecstaticus: Malachy Frame
Pater profundus: Ben McKee
Doctor Marianus: John Upperton
Una poenitentium: Lucy Cox
Magna Peccatrix: Fiona Fraser
Mulier Samaritana: Rebecca Leggett
Maria Aegyptiaca: Bernadette Johns
Mater gloriosa: Helena Moore
TICKETS
Tickets cost £20 and are available from: https://choiroftheearth.com/store/p/mahler-8-performance.
You will receive an email in advance of the concert with a link to the online stream.
All proceeds of the Concert will go to the Conservatorio Gustav Mahler de Irapuato, Salamanca, Mexico from where the children were recorded. This school has a strong association with Mahler and is doing wonders for the education of these children via the power of music.
If you wish to make an additional donation to the Conservatorio on top of the ticket price, please do so at: https://choiroftheearth.com/donations-to-conservatorio-gustav-mahler-de-irapuato
Choir of the Earth
Founder: Mark Strachan
Presidents: Roger Durston and Marina Mahler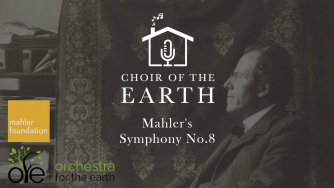 Get a route map
Your Map