Please note: This concert is in the past and has already taken place.
Details
St Giles' Cathedral
High Street
Edinburgh
EH1 1RE
Scotland


Programme
Tomas Luis de Victoria – Congratulamini mihi
Heinrich Isaac – Jubilate Deo omnis terra
Alonso Lobo – O quad suavis est
Claudio Monteverdi – Cantate Domino
Giovanni Francesco Anerio – Cantate Domino
Giovanni Francesco Anerio – Ave Regina coelorum
Chelsea Haward – Cantate Domino
Giovanni Pierluigi da Palestrina – Ad te levavi
~ Interval ~
Tomas Luis de Victoria – Doctor bonus amicus Dei
Tomas Luis de Victoria – Versa est in luctum
Antonio Lotti – Crucifixus a 10 voci
Anonymous – Descendi in hortum meum
William Byrd – Siderum rector
John Angus – Nunc Dimittis 'Song of Simeon'

Performers
Edinburgh University Renaissance Singers

Programme Note
2017 is a bumper year for composer anniversaries and in the first half of this evening's programme we celebrate a few of the best known Renaissance composers whose anniversaries fall in this, our 50th anniversary, year. We have also chosen some upbeat text settings to help us celebrate. To start our concert, we have a celebratory piece by the Spanish composer Tomás L. de Victoria, setting words placed in the mouth of Mary at Christmas; we are applying the opening word 'Congratulamini' to our own celebration.
Heinrich Isaac was born in Flanders but spent his life further South, first in the service of Lorenzo de'Medici in Florence and then with the Emperor Maximilian in Vienna and Innsbruck. He was in competition with his contemporary Josquin des Prez and composed prolifically. Jubilate Deo is a setting of the Introit for the third Sunday of Eastertide, taken from Psalm 66 (Vulgate numbering). Alonso Lobo was a choirboy in Seville Cathedral and was later appointed assistant choirmaster to the great Francisco Guerrero. After a spell at Toledo Cathedral he returned to Seville as choirmaster in 1604. O quam suavis celebrates the Eucharist, paraphrasing a verse from the Magnificat at the end. Claudio Monteverdi worked in Mantua and Venice where he was maestro at St. Mark's. In his Cantate Domino he set verses from Psalm 98 gives them a rousing six-voice setting. Giovanni Francesco Anerio, the younger brother of papal composer Felice, worked mainly in his native Rome but was sent to Warsaw by the Pope in 1624. His Cantate Domino takes a text from Psalm 149 and his four-voice setting forms an interesting contrast with that of his exact Northern Italian contemporary, Monteverdi.
Chelsea Haward was president of EURS in 2013-14 and, while a BMus student, composed two Christmas motets for the University Carol Service. Now a freelance musician, we commissioned her to write a new piece for our anniversary concert and she has chosen to set the same text as Anerio, with an added verse. Like Anerio and Monteverdi, Chelsea has responded in a particular way to each phrase of text, mixing Renaissance and modern styles.
It has become traditional for EURS to include in its concerts first modern performances of works transcribed by its director from libraries in Rome and elsewhere, and this evening we are premiering a double-choir setting of the Lenten Marian Antiphon, Ave Regina coelorum by G.F. Anerio taken from a set of early 17th-century partbooks in the Palazzo Altemps in Rome. It is an attractive setting which pays particular attention to the words. Back in 1997 we gave the first modern performance of three triple-choir pieces by Palestrina in the duomo in the town of Palestrina; the original third choir parts had been missing since the 18th century but were rediscovered by myself. Ad te levavi is the first of these, setting a text normally associated with Advent.
For the second half of this evening's concert we have chosen six pieces which have a special resonance for members of the choir across the decades (and we might have another one up our sleeve as an encore!). Victoria's music has been something of a constant over the past thirty years, reflecting my own research into that composer. Doctor bonus is one of our party pieces, its St. Andrew text fitting our Scottish location and particularly useful on choir tours. Versa est in luctum is one of the most heartfelt settings of the Renaissance period, forming part of Victoria's 1605 Requiem for his employer in Madrid, the dowager Empress Maria of Austria, sister of Philip II of Spain. Over the years we have lost a number of our cherished members and this piece is dedicated to all of them. Lotti falls outside our normal Renaissance ambit but we have performed this ten-voice version of his famous Crucifixus in the past and, since this is also his anniversary year, it will allow our enlarged choir to show its paces.
Descendi in hortum is one of the very few surviving pieces of Scottish Latin polyphony from before the Reformation; sadly we do not know who composed it. A very beautiful setting, it has been a favourite of the choir since the 1970s and is conducted this evening by Colin Heggie who directed EURS from 1972 to 1985. We are particularly pleased to have our founding conductor with us this evening and Philip Bradfield, who directed the group from 1967 to 1969, has chosen William Byrd's marvellous hymn setting Siderum rector which appeared in the iconic Cantiones Sacrae published jointly with Thomas Tallis in 1575, dedicated to Queen Elizabeth II. One of EURS's most prominent projects over the past twenty years has been its performances and recordings from the Wode Partbooks in Edinburgh University Library, one of the most important sources for Scottish pre- and post-Reformation music. Like Descendi in hortum, the Dunfermline-based John Angus's Song of Simeon comes from these books which were commissioned by James Stewart, Earl of Moray, in the 1560s (Moray was buried here in St. Giles after his assassination while Regent of Scotland in 1570). It is an exceptionally beautiful setting of the metrical version of the Evensong canticle and we have used it on many occasions to finish concerts, both in Scotland and on tour.
Noel O'Regan, director EURS 1986-present.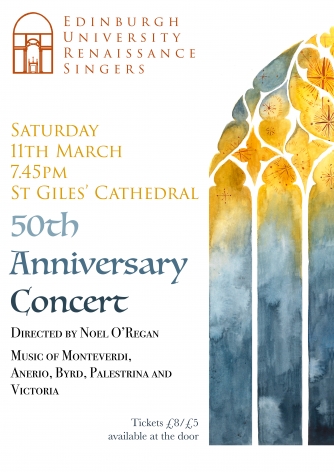 Get a route map
Your Map