Please note: This concert is in the past and has already taken place.
Details
St Giles-without-Cripplegate
Fore Street
City of London
London
EC2Y 8DA
England


Programme
Steve Banks – Blue Pearl: A One World Oratorio (world premiere)

Performers
Angela Hicks – Soprano
Luthien Brackett – mezzo-soprano
David de Winter – Tenor
Geoff Williams – Bass
Rob Lewis – Conductor

London Mozart Players
Excelsis Chamber Choir
Vox Farnham Chamber Choir

Programme Note
Blue Pearl: A One World Oratorio is an extraordinary, profound, inspirational new choral work for our times. Blue Pearl celebrates the unity-in-diversity of the earth and of humanity. The central image of the whole work is the earth as seen from space. It is a radical new work; fresh, vibrant, original, yet rooted in the western sacred choral tradition. It is an oratorio for our times, when humanity needs to act 'in concert' as never before if we are to avert the climate crisis, and when we need to shine the light of love and compassion in the face of the dark shadow that has fallen over Eastern Europe.
"Steve has used different styles of music to great effect to evoke the whole range of our shared human experience: from joy, humour and sexuality to the opening of our hearts in compassion, to the spiritual mystery we encounter in stillness and silence. 'Blue Pearl' is a wonderful and moving celebration of our shared humanity." – Rob Lewis, Musical Director, Excelsis & Vox Farnham Chamber Choirs
Blue Pearl expresses an understanding of spirituality – inspired by the revolutionary 'Integral model' of American mystic-philosopher-scientist Ken Wilber – which transcends individual faiths and traditions; a 'human' spirituality which integrates the best of the ancient spiritual traditions with modern psychology. Blue Pearl takes you on an extraordinary journey through the whole of evolution, including the evolution of human consciousness. The music is immediately accessible, tuneful, moving and uplifting, in a variety of styles, including classical – from 18th to 22nd centuries, African-influenced, and jazz.
Blue Pearl will touch your heart, mind, soul and spirit, and leave you feeling inspired and deeply connected – to your fellow human beings, to the earth, and to the spiritual mystery of the Kosmos.
Composer Steve Banks is giving an online seminar 6-8pm (UK time) on 31st March, 'Blue Pearl: Sacred Music For A Human Spirituality', about the spirituality that Blue Pearl conveys. Tickets – pay what you want between £1 - £20. Click here for details and booking.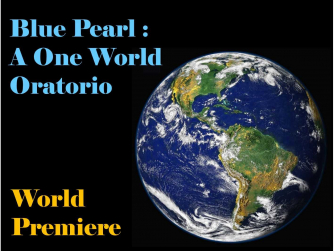 Get a route map
Your Map