Details
St John the Evangelist Church
Church Lane
West Meon
Hampshire
GU32 1LF
England


Tickets
Prices: Students £5, adults side £16, centre aisle £19.50
Season tickets: Festival pass centre aisle £65, side £55. Sunday pass (concerts 5 & 6) all areas £23
Booking line: 01424 893598
Book Tickets

Programme
Franz Schubert – Piano Trio in B flat major, D.28
Johann Strauss II (the Younger) – Treasure Waltz with Harmonium (arr. Webern)
Ludwig van Beethoven – String Trio in C minor, Op.9 no.3
Franz Lehár – Gold und Silber, Op.79

Performers
James Gilchrist – tenor
Jonathan Stone – violin
Paul Guinery – Narrator

Primrose Piano Quartet
Harmoniemusik

Programme Note
This year's West Meon Music Festival – to be held from 14 to 16 September – will be marking the end of the First World War with works from the period featured during the weekend. The final concert on Sunday afternoon, when the Primrose Piano Quartet will be joined by leading tenor James Gilchrist and former BBC Radio 3 presenter, Paul Guinery, includes songs, instrumental pieces and readings by composers and writers, many of whom served in the War.
The Quartet – who started the festival in 2011 – have put together an exciting programme for the three day event opening with "Viennese treasures" which include Lehar's Gold & Silver Waltz as well as such favourites as Schubert's Piano Trio. There is a full day on Saturday 15 September starting with a light-hearted children's concert on the theme of transport in the morning, in aid of The Rosemary Foundation, and an afternoon concert at Warnford church by baroque ensemble Harmoniemusik. In the evening the Primrose will be back at St John's Church in West Meon performing Schumann and Shostakovich Quintets with acclaimed violinist Jonathan Stone, while the day ends with a return visit from popular local folk group Head North! which will also be raising funds for The Rosemary Foundation.
Sunday morning's coffee concert includes Elgar's Violin Sonata, written in 1918 at Brinkwells in West Sussex where Elgar had retreated to recover from bouts of ill health and depression brought on by the carnage of the War. In the afternoon the festival ends with "The Lads in their Hundreds", which takes its name from A E Housman's poem set to music by composer George Butterworth, who was killed in 1916 during the Battle of the Somme. The afternoon programme also includes Vaughan-Williams' settings of Housman's poems, the song cycle, On Wenlock Edge.
Tickets include a glass of wine or a soft drink. Soft drinks only for students.
Early booking is advised.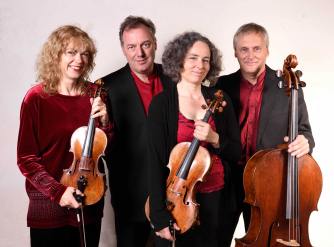 Get a route map
Your Map