Please note: This concert is in the past and has already taken place.
Details
St John the Evangelist Church
601 Harrow Road
Kensal Green
London
W10 4DB
England


Programme
Joseph Haydn – Piano Trio no.29 in G major, Hob XV:15
François Couperin – Concerts Royaux: Second Concert
Elena Firsova – Homage to Canisy for cello & piano
~ Interval ~
Sergey Prokofiev – Flute Sonata, Op.94
Carl Czerny – Fantasia concertante, Op. 256 (1832)

Performers
Helen Vidovich – flute
Valerie Welbanks – cello
Fei Ren – Piano

Marsyas Trio

Programme Note
Franz Joseph Haydn's long lifespan, incredibly, made him a contemporary of Bach, Mozart and Beethoven. Haydn spent 30 years in the service of the Esterhazy court as Kapellmeister between 1761 and 1791, providing salon pieces for entertainment in addition to church music. Haydn's 45 piano trios date almost exclusively from his Esterhazy period, most likely written for and played by members of the Esterhazy family. Trio No. 29 in G major, Hob.XV:15 is the first of a set of three trios requested by John Bland, an English publisher who visited Haydn at Esterhazy in 1789. Bland had requested 'some sonatas for piano with violin and cello accompaniment' but these trios were instead published for the flute, with the option to interchange for violin. It is more than plausible this was done in order to increase the publisher's sales, since the flute was rising in popularity as a chamber music instrument at the time. Composed in 1790, this set of works represent the genre of 'piano sonata with accompaniment', where flute and cello play a supporting role to the piano, unlike later piano trios where all three instruments assume an equal role. This partly relates to the sonority of keyboard instruments in Haydn's day, which, unlike the modern piano, had weak bass notes and a thinner tone in the upper register. The cello is used to reinforce the pianist's left-hand, while the flute frequently compliments right-hand melodies with doublings and occasional solos. This charming piece is full of Haydn's humour and moments of surprise (the Prince was not unknown to fall asleep during concerts!), opening with a sprightly first movement that displaying features of operatic writing. An introductory fragment on the piano is quickly followed by the flute's lyrical melody, with interplay between the voices throughout. Contrasted is the elegantly restrained middle movement featuring expressive melodic lines, followed by a virtuosic, extroverted final movement that contains unexpected winks and smiles.
Elena Firsova belongs to the post-Second World War generation of Soviet composers that emerged in the 1970s. These composers were at the forefront of compositional developments as the Iron Curtain gradually fell and their music began to reach an international audience. Firsova's compositional style placed her among the 'unofficial' composers whose music was popular in underground concerts. Her music was first heard outside the Soviet Union in 1979 at the Cologne Festival, which led to a public rebuke at the Sixth Congress of the Composers' Union, for having allowed her music to be performed in the West without the permission of Soviet authorities. Firsova thus became known as one of 'Khrennikov's Seven,' alongside other blacklisted composes that included Sofia Gubaidulina, Edison Denisov and her husband Dmitri Smirnov. Firsova was born in Leningrad on 21 March 1950, and from 1970-75 attended the Moscow Conservatory. Homage to Canisy, Op. 129 was written in 2010 and refers to the Château de Canisy in Normandy where Firsov family were guests each year. The music represents the hustle and bustle of musicians and audience members going between festival activities. The work was premiered by cellist Anatole Liebermann and pianist Alissa Firsova at the castle's annual festival, Fête de la Musique. Firsova has so far composed over 150 works, including commissions written for the BBC Symphony Orchestra, Royal Concertgebouw Orchestra and Deutsches Symphony Orchestra Berlin. Firsova's music is distinctive and personal, at times explosive, and always imbued with expressive lyricism where individual melodic lines seep through the texture. She cites a special connection with the introspective and confessional poetry of Osip Mandelstam, stating, "Had I been a poet, his is the poetry I would like to have written."
François Couperin's Second Concert is one of a set of four works published in 1722, at the back of Couperin's third book of harpsichord pieces. Written for the chamber concerts at the court of King Louis XIV, these were intended as flexible chamber ensemble pieces which could be played by any variety of instruments, or indeed by a single harpsichordist. Couperin wrote: "The pieces that follow are of a different kind than those I have published previously. They are suitable not only for the harpsichord, but also for the violin, flute, oboe, viola da gamba, and bassoon. I composed them for the little chamber concerts to which Louis XIV summoned me almost every Sunday of the year. If they are as much to the taste of the public as they were approved by the late king, I have enough of them to publish several complete volumes at a later date. I have arranged them according to key and have preserved the title under which they were known at the court in 1714 and 1715." In keeping with the original spirit of the music, we celebrate this 300 year old music using modern instruments for today's performance. Couperin came from a long family line of organists, identified by his contemporaries as Couperin le Grand. In Couperin's music is a wide range of expression and emotion, shown by such words as gracieusement, naïvement, tendrement and noblement. Each movement is like a miniature, the nature and character of each self-contained, representing in a way affectations or virtues personified by different masks of masqueraders in a French carnival. Couperin's ornamentation is central to his style. He commented on this in no uncertain terms: (!) "I am always surprised, after the pains I have given myself for marking the ornaments which are suitable to my Pieces…to hear people who have learned them without heeding my instructions…it is not at all an arbitrary matter to put in what ornaments one wishes. I declare…they will never make a certain impression on persons of true taste, unless they have observed to the letter everything that I have marked." Couperin's ornaments have an expressive function, intensifying dissonance, creating suspense, marking climaxes or cadences. His music always retains a sense of elegance and refinement, giving justification to his place in personifying the musical tradition of the age of Louis XIV.
The Russian composer and pianist Sergei Prokofiev was exposed to classical music at home from infancy. His early development was nurtured by his mother, herself an accomplished pianist who favoured the works of Beethoven, Chopin and Tchaikovsky. At age four, young Sergei would sit at the piano with his mother and 'improvise' on the uppermost notes while she played. This developed his natural instinct for music and by age five, he was already composing his first childhood pieces; at ten, wrote his first opera, inspired by visits to the opera houses of Moscow and St. Petersburg. We hear evidence of these early influences throughout Prokofiev's music. Much of his work is in the neo-classical style, making use of Classical forms, adding 20th-century harmonic and rhythmic elements. The highly unsettled political times in which he lived are also a marking influence. Prokofiev grew up in Tsarist Russia, lived in the United States and France after the Russian Revolution of 1917, and returned to his homeland in 1936. One might argue whether his music was stimulated or stifled by Stalin's strict cultural policies. Sonata No. 2, Op. 94, premiered in 1943, was written during the Second World War while the composer lived in the Ural Mountains. The relaxed atmosphere of this beautiful region is evident throughout the work. It follows a classical outline of four movements alternating between fast and slow tempi. The first movement, in sonata form, opens with a flowing, 'sunny' melody, contrasting with a march-like second subject. The second movement is a lively scherzo that features displaced rhythmic patterns and brilliant technical passages. Its middle section features a lyrical, folk-like melody. The third movement maintains a feeling of tranquillity throughout, providing the listener with some respite from the high energy of the movements that surround it. The work culminates in an extrovert, virtuosic final movement. Written in a typically classical Rondo-Finale format, Prokofiev cheekily draws out the conclusion with fragments of all four themes in the recapitulation, only returning to the tonic key in the penultimate bar. Such was the success of this work that the year after its premiere, the composer re-scored it for violin, at the request of world-renowned violinist David Oistrak.
Carl Czerny's virtuosic trio, dating from the early 1830s, provides a dramatic conclusion to today's recital. Written in a bravura style that was fashionable with travelling virtuosi throughout European concert halls, Fantasia concertante, Op.256 is written in short sections with contrasting thematic material, played continuously from beginning to end. Unexpected modulations and sudden changes of metre and tempo keep the listener constantly amused with new melodic ideas and displays of virtuosity. Interplay and exchange of solo material between the parts gives each of the three performers opportunities to steal the limelight. An exquisite cello solo in the middle of the piece epitomises the charm of this music, which features many elegant melodies alongside the brilliance. An Austrian pianist, composer and teacher, Carl Czerny spent his entire life in Vienna. He occupied a prominent place in society during his own lifetime, being a brilliant musician and highly sought-after teacher. Czerny left a legacy as a pedagogue in his books of etudes and exercises which are still a staple for pianists today. He composed over one thousand works, including much chamber music, and a relatively large number of works featuring the flute. Czerny provides an important link between the 17th and 18th centuries, having been a pupil of Beethoven, Salieri, Clementi and Hummel, and later the teacher of Mendelssohn and Liszt.
Australian flautist Helen Vidovich, Canadian cellist Valerie Welbanks and pianist Fei Ren from New Zealand met as postgraduate students at the Royal Academy of Music in London. Since 2009, the Marsyas Trio has performed throughout the UK, Europe and Asia. The ensemble has received generous support from Arts Council England, PRS for Music Foundation, the Britten-Pears Foundation, Ambache Charitable Trust, Hinrichsen Foundation and RVW Trust. Dedicated to music from all eras, the Trio is also proactive in the performance of new music, with an aim to inspire a generation of new works for this chamber ensemble through working with living composers. The Trio has appeared on Bulgarian National Television and has been broadcast on national radio in Europe and the USA. Past performances include St John's Smith Square and St-Martin-in-the-Fields in London, Holywell Music Room in Oxford, Lake District Summer Music and Two Moors Festivals, National Palace of Culture in Sofia, Bulgaria and concert tours in China and the UK (for Concerts in the West). The Trio has undertaken studies at the Chamber Studio, King's Place, and with Chris Elton, Michael Cox, Carol Presland, and members of the Chilingirian, Kreutzer and Skampa Quartets. Recent commissions include a work by British composer Laura Bowler, premiered at the 2014 Grimeborn Festival, and from Welsh composer Hilary Tann, to be premiered at the 2017 Vale of Glamorgan Festival. In May 2015 the Trio's CD featuring a newly commissioned work and other chamber music by Russian émigré composer Elena Firsova was released by Meridian Records.
Programme notes by Helen Vidovich
www.marsyastrio.com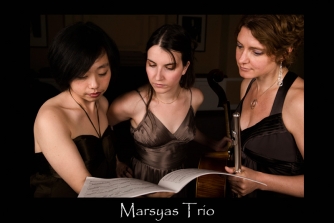 Get a route map
Your Map