Please note: This concert is in the past and has already taken place.
Details
St John's Smith Square
Smith Square
City of Westminster
London
SW1P 3HA
England


Programme
John McCabe – Tenebrae
Robert Matthew-Walker – The Fields are White Already, Op.153
Robert Simpson – Variations and Finale on a theme of Haydn

Performers
Mark Bebbington – Piano

Programme Note
In the third and final concert of the series, Mark Bebbington champions John McCabe (1939-2015), whose most ambitious and comprehensive piano work Tenebrae (1992/3) is set alongside the premiere of Robert Matthew-Walker's contemplation for solo piano in memoriam John McCabe - The Fields are White Already. Finally, an unsung hero of British music, Robert Simpson, is represented in his contrasting and life-affirming 'Variations and Finale on a Theme of Haydn' (1948); a dazzling display of keyboard mastery and compositional integrity.

Written as a single movement, John McCabe's towering Tenebrae - using the word in the sense of "darkness" , according to the composer - is an enduring and gripping exploration of mortality.

Its inspirations are many, including the loss of three much-loved and admired musical friends - Sir Charles Groves and the composers William Mathias and Stephen Oliver - and the opening of Hermann Broch's novel The Death of Virgil. Musical impulses include Chopin and Beethoven as well as the composer's long-standing fascination with the world of Liszt's two late pieces entitled La lugubre Gondole (The funeral Gondola).

According to Mark Bebbington, "John's 'Tenebrae' is a pianistic and emotional 'tour de force', exploring timeless themes of loss (and hope…) in a fearless and cohesive musical drama."

Robert Simpson's 1948 Variations and Finale on a Theme of Haydn are more than just an interesting fore-runner of the mighty String Quartet No 9 (32 Variations and Fugue on a theme of Haydn), which the composer wrote in 1982. The Haydn Variations follow a strict palindromic structure (beloved of Simpson) within each variation, culminating in an epic double fugue that explores every facet of polyphonic and textural ingenuity.

"I was thrilled to learn this work for the Simpson centenary last year, said Mark Bebbington, "and am delighted to perform this dazzling display of intellectual and pianistic imagination at St. John's."

Linking these works is Robert Matthew-Walker's meditation, The Fields are White Already, written last year for today's soloist and recently recorded by him for the SOMM label (July release). The work is a meditation in memory of composer John McCabe, and "one of Matthew-Walker's most beguiling works, with a wonderfully imaginative use of keyboard texture and colour", says Bebbington.

The title comes from Milton's 'Paradise Lost', which itself refers to Christ's statement that 'the fields are white already for harvest' – the final gathering of a life's work. "It seemed an appropriate phrase in contemplating the profound contribution to music that John McCabe made during his lifetime – as composer, pianist, writer and educator" said Matthew-Walker.

Written in one movement, the piece is a series of continuous 'reflections' in various forms, textures and tempos on phrases loyal to, yet always organically developing from, the original idea.

The three works make for a thought-provoking recital exploring themes of loss, mortality and, ultimately, hope for the future.
Surely a recital for our time.

Commitment to British music
Mark Bebbington's commitment to British music is well-known and his recordings for the SOMM label are numerous and varied, including major works by Bax, Carwithen, Ireland, Vaughan Williams, Mathias, Alwyn and Bridge, which have earned him consecutive sets of 5***** in BBC Music Magazine, two Gramophone Magazine 'Editor's Choice', and an International Record Review 'Outstanding' accolade, prompting International Piano Magazine to write: "Bebbington's revivals of British piano music are second to none; he could well be dubbed the concert pianists' Richard Hickox. Bebbington has almost single-handedly demonstrated that 20th-century British piano scores have an exciting role to play in the concert hall and recording studio".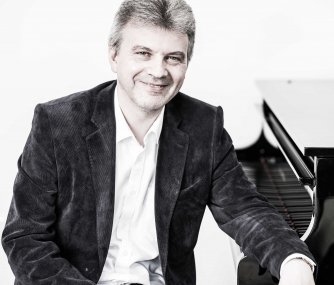 Get a route map
Your Map