Please note: This concert is in the past and has already taken place.
Details
St Peter's Church
Byram St
Huddersfield
West Yorkshire
HD1 1BU
England


Programme
Niccolo Paganini – Caprice for solo violin in E-flat major, Op.1 no.23
Johann Sebastian Bach – Partita no.2 in D minor for solo violin, BWV 1004
Georg Philipp Telemann – Violin Fantasia No. 12 in A minor, TWV 40:25

Performers
Dimitra Ananiadou – violin

Programme Note
GEORG PHILIPP TELEMANN (1681-1767) Violin Fantasia No. 12 in A minor, TWV 40:25: Moderato, Vivace, Presto. G. P. Telemann, a composer who linked the late baroque and early classical era, composed, among others, the twelve fantasias for unaccompanied violin, a magnificent set of pieces for solo violin, evident for their gallant and homophonic style. The word 'fantasia' comes from the Greek word 'φαντασία', which is related to the freedom of the musical form. In fantasia number twelve, the rhythmic alteration stands out, as in many places, the mood changes with the rhythm to alter from dotted patterns to triples, as well as the equally noticeable dance-like ending, with folk influence, plenty of double stops and embellishments.
JOHANN SEBASTIAN BACH (1685-1750) Violin Partita No. 2 in D minor, BWV 1004: Allemanda, Corrente, Sarabanda, Giga, Ciaccona. Bach knew the violin repertory well, and - amongst others like Heinrich Ignaz Franz von Biber - in writing such works, was claiming a place in a solid tradition. The D minor Partita begins by presenting the classic or most nearly standard group of dances, an Allemanda, a Corrente, a Sarabanda and a Giga. Then, however, Bach gives something in addition that turns out - indeed - to equal in length the rest of the partita put together and far to outdo it in magnificence and weight of utterance. This is the famous Ciaccona, a set of variations on an eight-bar chord sequence. The whole piece is extraordinary conjunction of architectural majesty with a fanciful bravura display of the instrument. It is thought that Bach wrote the Ciaccona as a response to the death of his first wife, a sombre expression of the grief he experienced. To most ears, the music reveals love, anguish, death and fear and is rich, clearly, in emotion, with denial, anger, bargaining, depression and acceptance.
NICCOLO PAGANINI (1782-1840) Caprice for Solo Violin Op. 1 No. 23 in E-flat Major: Posato, Minore. One of the first musical superstars - Niccolo Paganini, the utter sensation whose novel sound, bizarre appearance, eccentric lifestyle, riveting stage presence, mammoth mass appeal and monster showmanship - affected the music performance tradition by composing the twenty - four caprices for solo violin, known to the public for their difficult and virtuosic style. The caprice number twenty - three consists of two contrasting sections, a lyrical and playful Posato and a dynamic Minore.
To find tickets, scan the QR code in the poster, or visit eventbrite.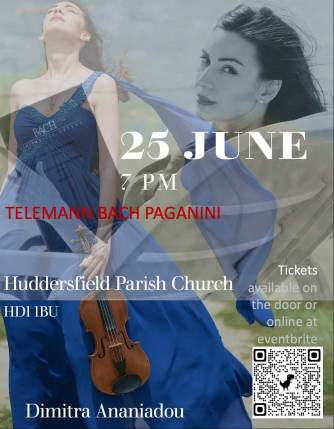 Get a route map
Your Map