Details
Orangery Theatre - Westonbirt School
Bath Road
Tetbury
Gloucestershire
GL8 8QG
England


Tickets
Prices: £40, under 18: half-price
Booking line: 01993 851142
Book Tickets

Programme
Joseph Haydn – Fool Moon 'Il mondo della luna'

Performers
Thomas Blunt – Conductor
Jonathan Eyers – baritone
Sam Harris – Tenor
Nathan Vale – Tenor
Iúnó Connolly – Soprano
Siân Dicker – Soprano
Margo Arsane – mezzo-soprano
Catherine Backhouse – mezzo-soprano

Orchestra of Bampton Classical Opera
Bampton Classical Opera

Programme Note
Bampton Classical Opera's summer 2022 production will be Haydn's Il mondo della luna. This three-act dramma giocosa from 1777 is the best-known of several operatic settings during the second half of the century of a delightfully crazy libretto by Carlo Goldoni. As Mozart was to do later with Così fan tutte, Haydn was inspired by a bizarre plot of disguise and deception to create a score of ravishing beauty and wit. How better to persuade an over-protective but gullible father to allow the marriages of his daughters than to persuade him that he has been transported to the moon?
Along with Gluck and Salieri, Bampton Classical Opera has taken particular delight in presenting Haydn opera to new audiences, and Il mondo della luna will be the third of his Goldoni settings to be performed. It will be sung in a new English translation by Gilly French under the title Fool Moon. Performances will be conducted by Thomas Blunt and directed by Jeremy Gray.
The wonderful cast includes, as always, young professionals who are emerging into significant national careers. Sopranos Iúnó Connolly and Siân Dicker, baritone Jonathan Eyers, mezzo-soprano Margo Arsane and tenor Sam Harris are all making their company débuts. Bampton is delighted to welcome back tenor Nathan Vale and mezzo-soprano Catherine Backhouse who has sung in several previous productions.
Synopsis
How better to persuade an over-protective but gullible father to allow the marriages of his daughters than to convince him that he has landed on the moon? The eponymous fool is Buonafede, something of a domestic tyrant, whose feisty daughters Clarice and Flaminia are determined to marry Ecclitico and the chevalier Ernesto, whilst his maid Lisetta is set on the servant Cecco. Buonafede tries to keep the girls safely away from temptation and, besides, he has his own eye on Lisetta. Ecclitico, an enterprising astronomer of dubious integrity, develops an elaborate and expensive ploy, pandering to Buonafede's ignorant enthusiasm for all things lunar. Ecclitico ingeniously plants the fancy that the moon is inhabited by desirable and appealingly forward young women. With the help of a potion – conveniently soporific – Buonafede is 'transported' to the lunar surface where he meets an indulgent cast of 'aliens': his visit is both wondrous and unnerving. But under the strict command of the Emperor of the Moon, whose face is worrying familiar, lunar marriages can be arranged, as Buonafede discovers to his chagrin…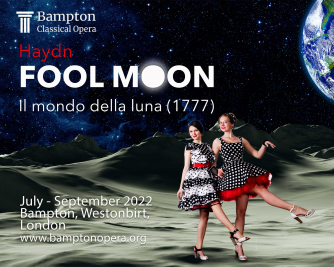 Get a route map
Your Map