Please note: This concert is in the past and has already taken place.
Details
Wells Cathedral
Cathedral Green
Wells
Somerset
BA5 2UE
England


Programme
Dario Castello – Sonata no.3
Arcangelo Corelli – Trio sonata in G major 'Ciaconna', Op.2 no.12
Arcangelo Corelli – Trio Sonata in G major, Op.3 no.6
Biagio Marini – Sonata for violin per sonar con due corde
Alessandro Piccinini – Toccata IV for Theorbo
Giovanni Battista Fontana – Sonata 11 in G major

Performers
Avison Ensemble

Other concerts in this Series (+)
Programme Note
The music you'll be hearing tonight is drawn from a huge body of repertoire which constitutes one of the most exciting, richly varied and satisfying eras of music history for listeners and players alike.
As so-called historical or period-performance in the last twenty or so years has become more or less "mainstream" so has there been an inevitable drift towards the "mainstream" in concert-programming. This is totally understandable, the exigencies of modern planning for festivals and concert-series mean that where once upon a time an early music concert might typically include several modern premieres of works by rarely heard composers, now the classics of Bach, Handel, Telemann, Vivaldi, Corelli et al hold sway. The term "Baroque" seems rarely to advertise music composed at the turbulent inception of that (somewhat arbitrary) era but rather the late flowerings and pinnacles of perfection of a musical movement whose dramatic roots we'll be exploring tonight.
I say all this not to complain, far from it, but merely to express the collective anticipation and sense of privilege we have to be performing this material in public. Thus you have in front of you, dear listener, some very content and excited musicians.
As arbitrary as terms like "Baroque" and "Classical" can be, there is one special idiomatic feature which we can identify as initiating the Baroque era - the primacy of a single melodic line accompanied by a bass, the Seconda Prattica of Monteverdi. Developed originally as a means of clarifying the meaning of sung text which could often be obscured by rich renaissance polyphony, this was also one of the main features of the new form of the instrumental Sonata. At the outset of the 17th Century the sonata bore little resemblance to compositions of the same designation from the 18th with their collection of discrete movements. The earlier form was generally constituted of a sequence of short sections, often wildly contrasting in mood and combining three main elements - an instrumental version of the vocal monody described above, dance-like sections, and freer passages where the player could demonstrate their virtuosity over a slowly moving bass with rapid figurations, trilli, groppi and other ornaments, often improvised on the spot.
These brief pieces, typically no longer than 4 and a half minutes, were published in huge numbers in the first half of the 17th Century and were played in various contexts including as part of church services. Their dramatic narratives/trajectories are best listened to as "mini-operas" or scenas. The majority of these were written for two or more high instruments and a Basso Continuo line. This bass line was intended for chordal instruments alone, the reinforcement of such lines with a bowed bass instrument being a much later development and one which is only appropriate with a very complex or fast-moving part. Castello's sometimes bizarre flights of fancy and seeming anarchism are flagged up in the introduction to his second book of sonatas In Stil Moderno where he advises players to rehearse the music before playing them in public(!) a precaution you'll be pleased to know we have also taken tonight............
In contrast the sonatas of G.B. Fontana exploit the singing qualities of the violin and remind us of the most pressing burden for instrumentalists of this time, to imitate as much as possible the human voice.
In the sonatas of Corelli we reach a sort of gold standard of perfection and a balancing of all the elements of the 17th Century form. He was one of the most copied and plagiarised composers of the era, paving the way and inspiring later writers for another fifty years.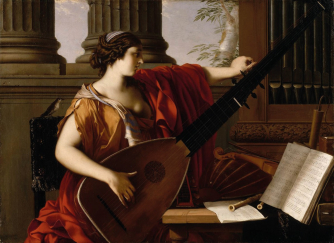 Get a route map
Your Map