Please note: This concert is in the past and has already taken place.
Details
The Old Church
Clissold Park
Stoke Newington
London
N16 0JR
England


Programme
Hildegard of Bingen – Ecclesia

Performers
The Telling

Other concerts in this Series (+)
Programme Note
Jan Chappell, actress as Hildegard
Clare Norburn and Yvonne Eddy singers
Kaisa Pulkkinen harp
Vision aims to give an insight into the painful visionary experiences Hildegard suffered throughout her life, covering some of the core emotional moments in her life.
While the script is grounded in research into Hildegard's life, I was actually more interested in exploring how she experienced those moments, than in giving a detailed historical account.
So Vision is "an imagined testimony" as Hildegard lies on her deathbed, revisiting and re-experiencing meaningful episodes from her past. It explores questions such as: what did it feel like to be taken away from her family at the age of 8? How did she experience the visions which she referred to as "the Living Light"? What was the physical experience of her visions? What did it feel to have so much responsibility in an age when women were generally powerless and silent?
Hildegard herself would not have approved of such an approach. For her, it was the big picture, God's message, that mattered, not Hildegard herself.
The meaning of the visions and their physical form is fascinating. Much has been written on the matter from several perspectives, including the well-known psychiatrist and neurologist Oliver Sacks, who concludes that Hildegard suffered from "scintillating scotoma", a form of migraine. Hildegard herself wrote about the experience, explaining that she saw visions accompanied by a great blinding light, with her eyes wide open: "the light that I see… is far, far brighter than a cloud that carries the sun. …. I call it 'the reflection of the Living Light.'" Sometimes she refers to hearing a divine voice which explains and introduces the visions.
There are so many extraordinary things about Hildegard that I that I couldn't cover them all. There are important episodes, especially later in her life, that I skip entirely. Instead I have tried to capture the frenzy of her activity on her major work Scivias which she wrote over 10 years in her 40s and 50s and which comes about when, in her early forties, she gives in to the visions, rather than suppressing and denying them a voice, as she did throughout her early life. Scivias has been described as "a prophetic proclamation, a book of allegorical visions, an exegetical study, a theological summa. Finally, it may be considered as a multimedia work in which the arts of illumination, music and drama contribute their several beauties to enhance the text and heighten the visionary message." (Heinrich Schipperges: Das Schone in der Welt Hildegards von Bingen.)
Hildegard's music is represented as the final outpouring of her visionary three volume work Scivias. It is almost as if Hildegard has no more words; through music she can "say the unspeakable".
Towards the end of Vision, Hildegard's own voice from Scivias begins to take over. You will hear one of her visions retold in a rewritten and précised format and her extraordinary writings about music. Here, as in Scivias, music has the final word, as Hildegard faces her death in a symphony of sound.
Programme:
Hildegard von Bingen 1098 –1179
Ecclesia
Ave Generosa
Instrumental on O Pastor Animarum
Columba Aspexit
Viridissima virga
Instrumental on Studium Divinitatis
Pulcrae facies
Ignis Spiritus
Frondens Virga
Karitas habundat
Final Processional from Ordo Virtutum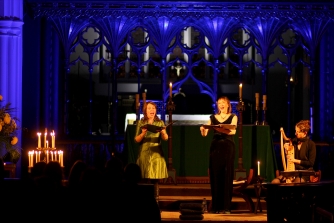 Get a route map
Your Map