Details
St Bride's Church, Fleet Street | London
Thursday 23rd March 2017
6:00 PM
Programme
George Frideric Handel – The King Shall Rejoice, HWV 260
Charles Villiers Stanford – 3 Motets: Justorum animae
Charles Villiers Stanford – 3 Motets: Beati quorum via
Morten Lauridsen – O magnum mysterium
Anton Bruckner – Locus iste, WAB 23
Antonio Vivaldi – Gloria in D major, RV 589

Performers
Rupert Jeffcoat – organ
Robert Porter – conductor

Brandenburg Singers

Other concerts in this Series (+)
Fri 30 Dec 16 - 06:30 PM
Fri 30 Dec 16 - 09:30 PM
Sun 08 Jan 17 - 03:00 PM
Thu 12 Jan 17 - 07:00 PM
Thu 12 Jan 17 - 09:30 PM
Sat 21 Jan 17 - 07:30 PM
Sat 28 Jan 17 - 06:00 PM
Sat 28 Jan 17 - 08:00 PM
Sun 29 Jan 17 - 04:00 PM
Sat 04 Feb 17 - 07:30 PM
Wed 08 Feb 17 - 02:00 PM
Sat 11 Feb 17 - 07:30 PM
Sun 12 Feb 17 - 05:30 PM
Sat 18 Feb 17 - 07:30 PM
Fri 24 Feb 17 - 07:30 PM
Sat 25 Feb 17 - 01:45 PM
Sat 25 Feb 17 - 06:00 PM
Sat 25 Feb 17 - 08:00 PM
Thu 02 Mar 17 - 07:00 PM
Fri 03 Mar 17 - 07:30 PM
Sat 04 Mar 17 - 07:30 PM
Sun 05 Mar 17 - 05:30 PM
Sun 12 Mar 17 - 05:00 PM
Wed 15 Mar 17 - 07:30 PM
Thu 16 Mar 17 - 07:30 PM
Fri 17 Mar 17 - 07:00 PM
Fri 17 Mar 17 - 09:30 PM
Sun 19 Mar 17 - 05:00 PM
Wed 22 Mar 17 - 07:00 PM
Thu 23 Mar 17 - 07:45 PM
Fri 24 Mar 17 - 07:00 PM
Fri 24 Mar 17 - 09:30 PM
Sat 25 Mar 17 - 07:30 PM
Sun 26 Mar 17 - 05:00 PM
Wed 29 Mar 17 - 07:00 PM
Thu 30 Mar 17 - 07:30 PM
Sat 01 Apr 17 - 06:00 PM
Sat 01 Apr 17 - 08:00 PM
Tue 04 Apr 17 - 07:45 PM
Thu 06 Apr 17 - 07:00 PM
Thu 06 Apr 17 - 09:30 PM
Sat 08 Apr 17 - 07:30 PM
Sun 09 Apr 17 - 05:30 PM
Fri 21 Apr 17 - 07:30 PM
Sat 22 Apr 17 - 07:30 PM
Tue 25 Apr 17 - 02:00 PM
Fri 28 Apr 17 - 06:00 PM
Mon 01 May 17 - 06:00 PM
Mon 01 May 17 - 08:00 PM
Programme Note
The Brandenburg Choral Festival of London presents this rush-hour concert featuring one of its resident choirs, the Brandenburg Singers, conducted by Artistic Director Robert Porter. They will perform favourites of the choral repertoire by Stanford, Bruckner, Lauridsen and Handel, finishing with Vivaldi's uplifting Gloria. Organ accompaniment will be provided by Rupert Jeffcoat.
A combined ticket offer is available for this concert and the later concert at St Bride's. Please contact the box office for details.
For more information please click here.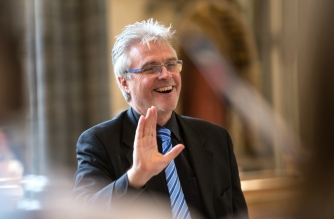 Get a route map
Your Map