Details
St Bride's Church, Fleet Street | London
Thursday 23rd March 2017
7:45 PM
Programme
Adam Gorb – Thoughts Scribbled of a Blank Wall
Paul Patterson – When Music Sounds, Op.117
Thomas LaVoy – O Great Beyond (London Premiere)
Mark Bowler – Fother-Jiggen
David Ho-Yi Chan – Laudate Dominum
Max Charles Davies – Tiny Sonata
Mark Gotham – Isomorphic Fantasy
Jack Oades – Hear Me When I Call
Alison Willis – Dawn. Brussels. October 12th 1915

Performers
Simon Hogan – organ
Michael Bawtree – conductor
Dingle Yandell – bass baritone

The Choir of Selwyn College, Cambridge
Onyx Brass

Other concerts in this Series (+)
Fri 30 Dec 16 - 06:30 PM
Fri 30 Dec 16 - 09:30 PM
Sun 08 Jan 17 - 03:00 PM
Thu 12 Jan 17 - 07:00 PM
Thu 12 Jan 17 - 09:30 PM
Sat 21 Jan 17 - 07:30 PM
Sat 28 Jan 17 - 06:00 PM
Sat 28 Jan 17 - 08:00 PM
Sun 29 Jan 17 - 04:00 PM
Sat 04 Feb 17 - 07:30 PM
Wed 08 Feb 17 - 02:00 PM
Sat 11 Feb 17 - 07:30 PM
Sun 12 Feb 17 - 05:30 PM
Sat 18 Feb 17 - 07:30 PM
Fri 24 Feb 17 - 07:30 PM
Sat 25 Feb 17 - 01:45 PM
Sat 25 Feb 17 - 06:00 PM
Sat 25 Feb 17 - 08:00 PM
Thu 02 Mar 17 - 07:00 PM
Fri 03 Mar 17 - 07:30 PM
Sat 04 Mar 17 - 07:30 PM
Sun 05 Mar 17 - 05:30 PM
Sun 12 Mar 17 - 05:00 PM
Wed 15 Mar 17 - 07:30 PM
Thu 16 Mar 17 - 07:30 PM
Fri 17 Mar 17 - 07:00 PM
Fri 17 Mar 17 - 09:30 PM
Sun 19 Mar 17 - 05:00 PM
Wed 22 Mar 17 - 07:00 PM
Thu 23 Mar 17 - 06:00 PM
Fri 24 Mar 17 - 07:00 PM
Fri 24 Mar 17 - 09:30 PM
Sat 25 Mar 17 - 07:30 PM
Sun 26 Mar 17 - 05:00 PM
Wed 29 Mar 17 - 07:00 PM
Thu 30 Mar 17 - 07:30 PM
Sat 01 Apr 17 - 06:00 PM
Sat 01 Apr 17 - 08:00 PM
Tue 04 Apr 17 - 07:45 PM
Thu 06 Apr 17 - 07:00 PM
Thu 06 Apr 17 - 09:30 PM
Sat 08 Apr 17 - 07:30 PM
Sun 09 Apr 17 - 05:30 PM
Fri 21 Apr 17 - 07:30 PM
Sat 22 Apr 17 - 07:30 PM
Tue 25 Apr 17 - 02:00 PM
Fri 28 Apr 17 - 06:00 PM
Mon 01 May 17 - 06:00 PM
Mon 01 May 17 - 08:00 PM
Programme Note
The Brandenburg Choral Festival is delighted to partner with JAM at the start of its 2017 season at St Bride's Church, Fleet Street, in this annual Music of our Time concert. Michael Bawtree conducts the Chapel Choir of Selwyn College, Onyx Brass and Simon Hogan (organ) in this inspirational programme of contemporary, thought-provoking music. They will be joined by outstanding bass-baritone Dingle Yandell, who takes the lead in Adam Gorb's Thoughts Scribbled on a Blank Wall – commissioned by JAM ten years ago. The programme also includes works by eight other living composers, including the London Premiere of O Great Beyond, Thomas LaVoy's setting of Tagore's The Gardener, which was commissioned by JAM last year, and Paul Patterson's When Music Sounds in celebration of his seventieth birthday. Six new pieces submitted to JAM's recent Call for Music by emerging young composers will also be performed.
A combined ticket offer is available for this concert and the earlier concert at St Bride's. Please contact the box ofice for details.
For more information please click here.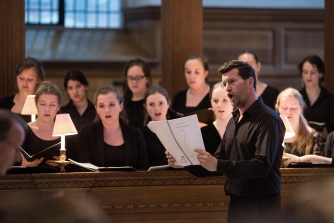 Get a route map
Your Map