Details
St Martin-in-the-Fields | London
Friday 24th March 2017
7:00 PM
Programme
Gerald Finzi – God is gone up, Op.27 no.2
William Byrd – Vigilate
William Byrd – Ave verum corpus
William Byrd – O Lord, make thy servant Elizabeth our Queen
Johann Sebastian Bach – Toccata in F major, BWV 540i
Ruth Byrchmore – A Birthday
Matthew Martin – Ut unum sint
Toby Young – O God, make the door of this house
Francisco Guerrero – Ave virgo sanctissima
Jacobus Clemens non Papa – Ego flos campi
Johann Sebastian Bach – Cantata, BWV 147: Jesu, joy of man's desiring
Olivier Messiaen – La Nativité du Seigneur: Dieu parmi nous
Patrick Hadley – My beloved spake
William Harris – Faire is the Heaven
Charles Villiers Stanford – Te Deum in C major, Op.115

Performers
Robert Quinney – conductor
Timothy Wakerell – organ

The Choir of New College, Oxford

Other concerts in this Series (+)
Fri 30 Dec 16 - 06:30 PM
Fri 30 Dec 16 - 09:30 PM
Sun 08 Jan 17 - 03:00 PM
Thu 12 Jan 17 - 07:00 PM
Thu 12 Jan 17 - 09:30 PM
Sat 21 Jan 17 - 07:30 PM
Sat 28 Jan 17 - 06:00 PM
Sat 28 Jan 17 - 08:00 PM
Sun 29 Jan 17 - 04:00 PM
Sat 04 Feb 17 - 07:30 PM
Wed 08 Feb 17 - 02:00 PM
Sat 11 Feb 17 - 07:30 PM
Sun 12 Feb 17 - 05:30 PM
Sat 18 Feb 17 - 07:30 PM
Fri 24 Feb 17 - 07:30 PM
Sat 25 Feb 17 - 01:45 PM
Sat 25 Feb 17 - 06:00 PM
Sat 25 Feb 17 - 08:00 PM
Thu 02 Mar 17 - 07:00 PM
Fri 03 Mar 17 - 07:30 PM
Sat 04 Mar 17 - 07:30 PM
Sun 05 Mar 17 - 05:30 PM
Sun 12 Mar 17 - 05:00 PM
Wed 15 Mar 17 - 07:30 PM
Thu 16 Mar 17 - 07:30 PM
Fri 17 Mar 17 - 07:00 PM
Fri 17 Mar 17 - 09:30 PM
Sun 19 Mar 17 - 05:00 PM
Wed 22 Mar 17 - 07:00 PM
Thu 23 Mar 17 - 06:00 PM
Thu 23 Mar 17 - 07:45 PM
Fri 24 Mar 17 - 09:30 PM
Sat 25 Mar 17 - 07:30 PM
Sun 26 Mar 17 - 05:00 PM
Wed 29 Mar 17 - 07:00 PM
Thu 30 Mar 17 - 07:30 PM
Sat 01 Apr 17 - 06:00 PM
Sat 01 Apr 17 - 08:00 PM
Tue 04 Apr 17 - 07:45 PM
Thu 06 Apr 17 - 07:00 PM
Thu 06 Apr 17 - 09:30 PM
Sat 08 Apr 17 - 07:30 PM
Sun 09 Apr 17 - 05:30 PM
Fri 21 Apr 17 - 07:30 PM
Sat 22 Apr 17 - 07:30 PM
Tue 25 Apr 17 - 02:00 PM
Fri 28 Apr 17 - 06:00 PM
Mon 01 May 17 - 06:00 PM
Mon 01 May 17 - 08:00 PM
Programme Note
The Brandenburg Choral Festival of London welcomes the fabulous Choir of New College Oxford to the 2017 Spring Series in the beautiful candlelit surroundings of St Martin-in-the-Fields. Bach's sublime Jesu, Joy of Man's Desiring will be at the heart of this eclectic programme, which also includes cherished motets by William Byrd, some favourites of the turn-of-the-century choral repertoire by Finzi, Stanford and Harris, and some exciting new music by young British composers.
A reduced price combined ticket is available for this concert and the later concert at St Martin's. Please contact the box office for more details.
For more information please click here.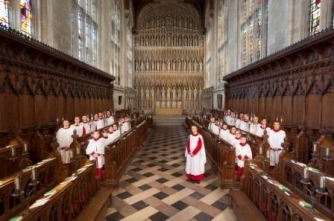 Get a route map
Your Map